Designed in London
Black to the knee dress
Lion Print detail sleeve
Invisible zipper in the back, easy to wear or take off.
100% polyester, Satin finish.
Loose fitting, making you feel conformable when wearing.
Hand wash in cold water only.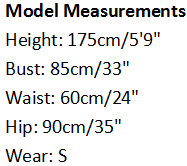 Ships to the Americas (Canada included), Europe & Asia-Pacific.
Estimated Delivery Time:
1 - 2 days for Domestic
3 - 9 days for International
Processing Time:
3 - 4 Days


14-day return policy during which a customer may return an item that is undamaged, unworn, and unused with tags still attached within 14 days from when the item was received. The supplier will also provide a return/refund policy for any damaged or defective items as long as any claims are placed within the agreed upon 5 days of the item being received. Customers will contact LJadore with any requests for return and LJadore will then contact the supplier.